Holidays in Thai: Bangkok on February 9th, 2016
This is our last day in Thailand. Since we still kept the tickets to Ananta Samakhom Throne Hall, we planned to visit that before heading to the airport.
I found on Google Maps that bus No.2 went there, so we waited and boarded the bus at the bus stop outside our hotel, after which we were lost for a second or two as we searched for the conductor or the fare box. I struggled for quite some time with English and sign language and learned from a fellow passenger that this bus is free.
(I guess the bus's free due to its lack of air conditioning. On the return trip we boarded another bus with air conditioning and with a conductor.)
The bus dropped us off on a road south of Ananta Samakhom Throne Hall, we walked to its south gate where the guard told us that we can visit Ananta Samakhom Throne Hall and Vimanmek Mansion with one ticket.
He also told us that we need to deposit our bags there and handed us a key to a storage box, free of charge.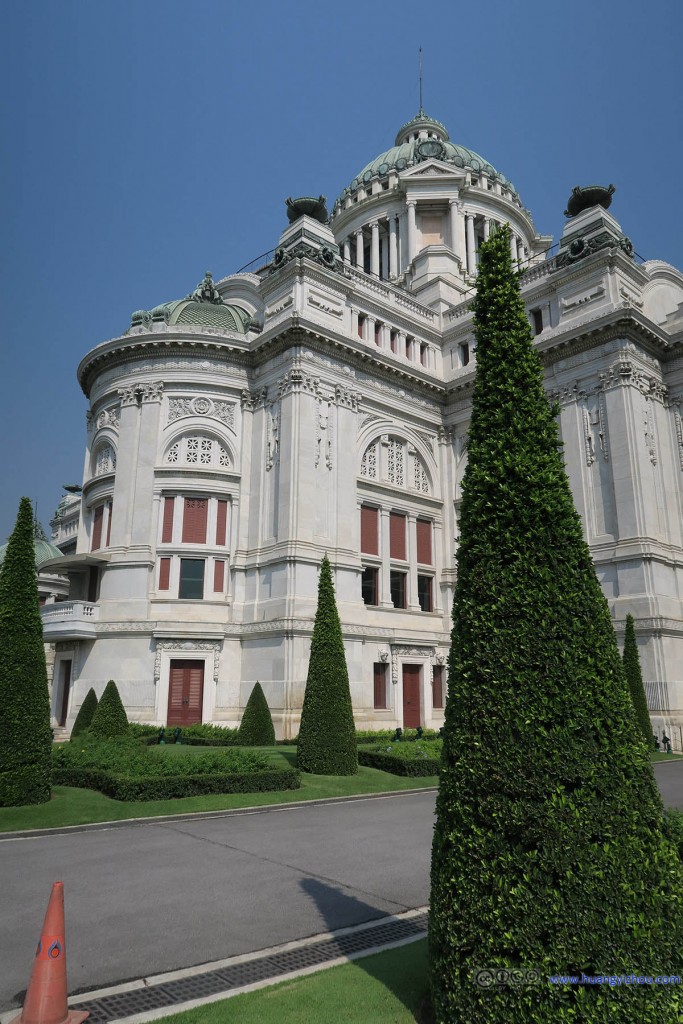 We visited Ananta Samakhom Throne Hall first, which has become a museum displaying royal treasures. Ananta Samakhom Throne Hall required all female visitors to wear an apron, so my mom bought a piece of tablecloth from the visitor center at 50THB (which they claimed to be the production cost). It turn out that rectangular piece of cloth fits perfectly to our dining table back home. After being worn for half a day and served as our tablecloth for quite some time, that piece of tablecloth did prove its value.
Oh wait, while visiting Ananta Samakhom Throne Hall my mom kept complaining that she's surrounded by nannies from Chinese tour groups, who brought their COLORFUL aprons from vendors outside Ananta Samakhom Throne Hall with their tour guides enjoying their cut.
No electronic devices were allowed in Ananta Samakhom Throne Hall. Free audio guides were provided, and of course, we had the alternative of listening to tour guides all around. (Basically only Chinese tour groups visit Ananta Samakhom Throne Hall)
I found the audio guide quite useful, although when hearing "it took XX artists from XX institution XX months to finish this masterpiece" I knew it's time to move on to next object.
Then we went to the historic Vimanmek Mansion, which is the largest teakwood mansion on earth.
No photographs in Vimanmek Mansion and no audio gudie was provided. One thing to note is that you need to store your shoes in some designated shelves before entering Vimanmek Mansion. Two guided tours were provided each day. Although not many Chinese tour groups visit here, it's not a long wait before we "joined" one. Maybe it's due to the magnificence of the exhibits in the Throne Hall that we didn't find Vimanmek Mansion that attractive. Of course, Vimanmek Mansion was very much as it had been, without undergoing much renovation.
Then we walked back to the bus stop, took a bus to the hotel, packet our stuff and headed for the airport.
By the way, the conductor on our bus back was so friendly that she pointed the way for us after we got off the bus (, although we were very familiar with the alley back to hotel by then).
END

Holidays in Thai: Bangkok on February 9th, 2016 by Huang's Site is licensed under a Creative Commons Attribution-NonCommercial-ShareAlike 4.0 International License.