Hiking Mary's Rock in Shenandoah
A warm day in the month of May as summer colors finally returned to the mountains. I headed out to Shenandoah National Park for some hiking.

This time I picked Mary's Rock Trail, whose trailhead was conveniently located near Thornton Gap Service Station.
From satellite image, it seemed that the trail and service station were also accessible from a parking lot on Lee Highway / US 211 that didn't require entrance fees.
The standard route from Washington DC to Thornton Gap Entrance of the park was I66 and US211. Once out of Interstate, US211 rolled its way through a few villages with minimal traffic lights. Traffic was light on a Sunday morning, especially true after passing Warrenton. All the right ingredients for a perfect road trip.
After passing Sperryville, Lee Highway / US211 narrowed down to two lanes and wound its way up Appalachian Mountains.
After that, I started my hike. Here's GPS tracking:

For the most part, Mary's Rock Trail followed Appalachian Trail under shades of forest, which came handy for a hot early summer day like this.
About halfway through the journey, I came across a bear by the trail. It was a thrilling moment as we came to only 1 meter apart, before we both realized and were frightened by each other's presence and backed off.
Later, some seasoned hikers joined me in waiting for the bear to pass (and of course, taking photos). They claimed to have often saw bears at this particular location, probably for the presence of a creek behind the bushes. For information, the location was at the first switchback right West of tunnel. About ten minutes later, the bear was probably bored with looking at people and disappeared into the bushes, and my journey resumed.
After an hour from trailhead, I was at Mary's Rock, where views were wide open and spectacular. Only that the company of many insects weren't the most welcomed.
It was still early in the day when I got back to the trailhead. However, I had some issue to address so I decided to head home early. Stil in the mood of the day, I took a detour through Skyline Drive, the park's main road, and some of Virginia's country roads to a supermarket in Gaithersburg before heading home.
By the way, it seemed that only the western part of Thornton Gap service station parking lot (closer to trailhead) had cellular coverage. I was very puzzled by this.
Here's the route that I took: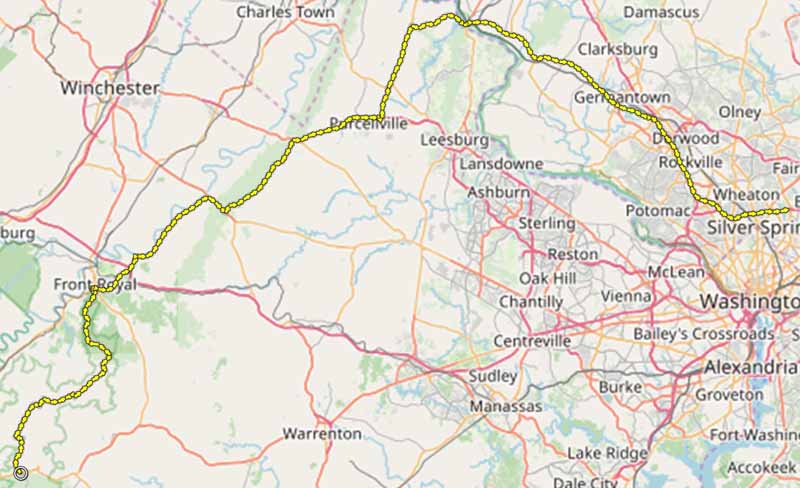 While driving up Skyline Drive, I stopped at a few roadside overlooks to appreciate the scenery and mountainous landscape that I was in.
Then there's a nameless roadside overlook.
Followed by Signal Knob Overlook, indeed, this was one of the few places in the park with cellular coverage.
After that and once out of Front Royal, I decided to take an unusual route to cross Potomac River, by Point of Rocks Bridge.
And result was that, I was quite enjoying this tour of countryside on wheels.
END

Hiking Mary's Rock in Shenandoah by Huang's Site is licensed under a Creative Commons Attribution-NonCommercial-ShareAlike 4.0 International License.