Updated on December 23, 2022
Flight Log of American Airlines Flight 2890 and 2372 from Washington DC to Denver via Charlotte
A post about my flights with American Airlines from Washington DC to Denver, the start of a week of mountaineering in the wonderous state of Colorado.
This trip to Colorado had long been in my plans. Having done two YDS class 3 peaks in the previous two years, I finally thought it's time for me to take mountaineering to the next level, by venturing into the alpine state of Colorado. Originally, I scheduled this trip at the end of July, planning to fly to Laredo after it for this year's Bronco and Palomino League World Series. At the beginning of July, scheduling at my workplace meant I had a preferred opening to move this trip to the end of August, the week before Labor Day.
While airfare during summer 2022 had been through the roof, it finally cooled down towards the end of August, when American Airlines was only selling this one-way trip for 150 dollars. (An alternative would be 9.5k miles, with an inferior schedule, so I didn't choose that.)
American Airlines Flight 2890 from Washington Reagan to Charlotte
Just days before my flight, I learned that Washington DC's Metro was shutting down yellow line service for pretty much the rest of the year. As a result, I made my way to the metro station at 7:30am, 3 hours before my flight, which was very early for my departures from Washington Reagan Airport.
In line with my unfortunate tradition of losing things this summer, I couldn't find my metro card while trying to exit the station at the airport. Changing metro trains certainly took its toll.
Breakfast

From "American Tap Room", a restaurant that participated in PPS. They had a rather limited breakfast menu, and this fried chicken was a disappointment. It felt a bit overcooked and were too hard to bite.

Fire Trucks at DCA Ramp

They were to perform a water salute on an American Airlines plane wearing "Medal of Honor" livery.
Click here to display photos of the slideshow




After the long metro line and with modest lines at the security checkpoint, I made it to "American Tap Room" for some free food, courtesy of PPS, which turned out to be a bit underwhelming.
And after this restaurant visit, by the time I reached the boarding gate a concourse away, it's already final boarding call.
American Airlines 2890
Boeing 737-800 (N956NN)
Seat 8F
Scheduled Departure – 10:26am
Actual Departure – 10:39am
Scheduled Arrival – 12:30pm
Actual Arrival – 11:37am
58 minutes
Here's GPS tracking:
With status from Alaska Airlines, I was sitting on the first row of "Main Cabin Extra", seat 8F. Quite to my surprise, I had the entire row to myself, somewhat justifying the lower fare compared to a month ago.
Only that I found the power outlets underneath the seats didn't work.
After leaving the gate, we waited in line for a few minutes before takeoff. It's a northbound departure, meaning I got to enjoy the views of National Mall on takeoff.
Here's a video of the takeoff:

Click here to display photos of the takeoff.






Much of the flight was following US Route 29, a route that I frequented on my way to Shenandoah National Park and Blue Ridge Parkway, with some familiar sceneries.
Click here to display photos of the scenes along the way.










And here's a video of the landing:

Officially, I only had a 30-minute connection at Charlotte. However, my inbound flight landed almost an hour early, so I had just enough time to make a detour to visit "The Club CLT", the only lounge in the airport that participated in PPS, which opened just a few months ago.
To begin, this lounge removed its self-service food area and opted for a menu behind QR codes (upper left). From a decent (but by no means, bountiful) selection (right), I picked the "Chicken Gumbo and Rice" (⭐popular) given my limited time, which came with a nice-looking picture (lower-left).


13 minutes later and much to my upset, I was served with a small cup of, something edible (below). Just that I was having a hard time correlating it to the picture on my phone. (Next to a bit of cranberry juice that I picked up from the self-service counter, which tasted like too much sugar.)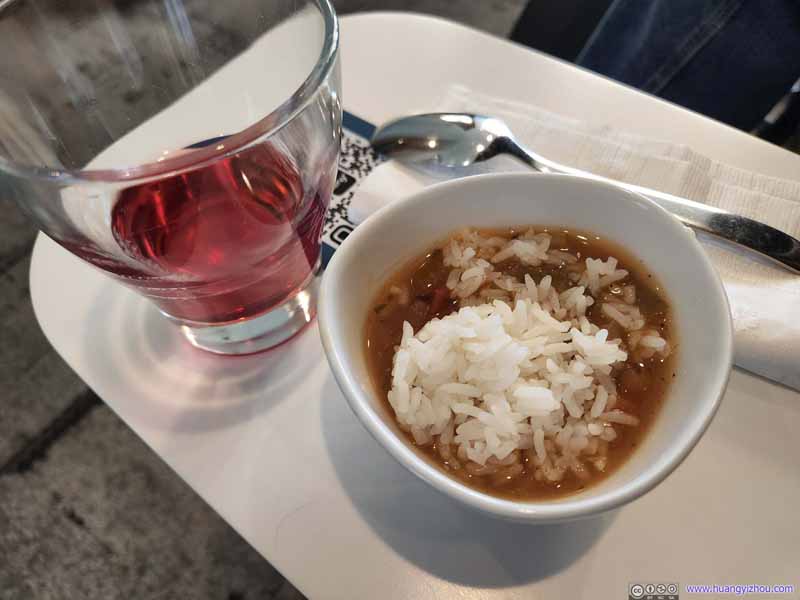 Click here to display photos of the slideshow






American Airlines Flight 2372 from Charlotte to Denver
After an underwhelming visit to the lounge, I headed for the boarding gate of the upcoming flight to Denver, and the boarding was almost complete. That's in line with the fact that the plane was fairly empty, and again I had an entire row to myself.
American Airlines 2372
Airbus 321 (N184US)
Seat 8F
Scheduled Departure – 1:00pm
Actual Departure – 1:06pm
Scheduled Arrival – 2:28pm
Actual Arrival – 2:02pm
2 hours and 56 minutes
Here's GPS tracking:
And here's a video of the takeoff:

Click here to display photos of the slideshow





And here's a video of the landing:

A friend of mine would join me on this Colorado trip, and he would be arriving the next morning. So for this night, I chose to stay at Hyatt Place Peña Station/Denver Airport, which was a cat2 Hyatt at 8000 points per night, and offered free airport shuttle.
The hotel room was nice with modern decor. One could feel it belonged to the modern "Hyatt Place" that's not inherited from "AmeriSuites". The hotel "upgraded" me to the top floor. Unfortunately (that meant) I could hear the howling wind from the air vents that couldn't be muffled by my earplugs. It kept me from getting good sleep until the second half of the night when the wind abated.
Originally, I planned for the option to hit downtown Denver for an evening out, since my hotel was right next to the tram station. But after settling down in the hotel, I felt a bit tired, so I found some dinner nearby not too far away and called it a day.
Click here to display photos of the slideshow






END

Flight Log of American Airlines Flight 2890 and 2372 from Washington DC to Denver via Charlotte by Huang's Site is licensed under a Creative Commons Attribution-NonCommercial-ShareAlike 4.0 International License.